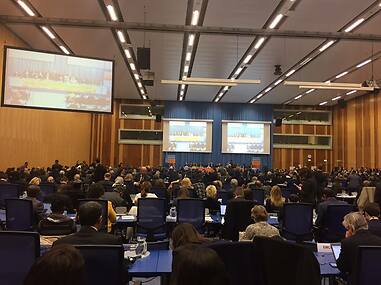 Dianova USA is a non-profit organization with status 501 (c) 3, whose main activities, in collaboration with Dianova International, focus on advocacy in areas such as addiction, empowerment of women, immigration and sustainable development. Dianova USA is also dedicated to raising funds to help develop the Dianova Network's social projects.
Dianova delegation in New York
In 2014, Dianova USA and Dianova International signed a partnership agreement for the establishment of a delegation in New York city. Through this delegation, our representatives have been able to attend United Nations' and the Organization of American States' meetings, have a more active and visible role in various NGO committees and reinforce our advocacy capacity in the Americas. In addition, the New York delegation is dedicated to raising funds for the projects developed by the Dianova Network.
In September 2015, after the signing of a collaboration agreement with the United Methodist Church, an office was put to Dianova's disposal in New York city, within walking distance from the UN headquarters. One person was hired in order to develop the following activities in 2015:
· Participation in committees where we are represented: NGO Committee on the Status of Women, New York (NGO CSW / NY) and the NGO Committee on Migration (NGO COM);
· Organization of a side event at the 59th session of the Commission on the Status of Women (CSW59) and publication of a written statement prior to the 60th session of the 60th session of the Commission;
· Participation in several meetings and debates for the preparation for the UNGASS 2016, Board of the CoNGO, Global Forum on health and development of women;

· Attendance to several meetings in Washington: CICAD (OAS) and interviews with representatives of the Inter-American Development Bank (IDB);
· Analysis on sponsorship and funding opportunities for projects or social programs developed by the Dianova network and preparation of a list of potential philanthropic institutions.